It seems that we are all anxiously waiting for the feel of Fall in the air. With the first couple of days of Autumn forecast to approach nearly 100 degrees in parts of North Texas, this will be the warmest start to Fall on record for the Metroplex!
But, what's really in the air is the ramping up of the Lone Star 2023 Regional. Chapter 124 is happy to announce that the Regional Exhibit Theme for this year's event will be "Black Forest Clocks" hosted by Justin Barren.
We will provide further details in the very near future. In the meantime, please contact Justin, or any board member, about your interest in Black Forest clocks or any information that you would like to see added to our Exhibit.
---
On July 23-24, 2022, Chapter 124 held a class on the repair of clocks manufactured by the Self Winding Clock Co. of New York. Students included Steve Skrasek, Arnold Madnick, Tom Hefner, Carlie Dimitriadis, Ralph Ward, Tim Henz, Ken Sykes and Mark Hall. The instructor was John Acker, assisted by Brian Schmidt. As well as general repair of the clock movement, the class included historical information about the company and its impact on standardizing time across the United States. A special demonstration by Brian Schmidt showed how the brass connectors in the wiring harness were nickel-plated. Thank you to John Acker for a great class and a shout out to Ken Reindel Colorado, Chapter 21 for information.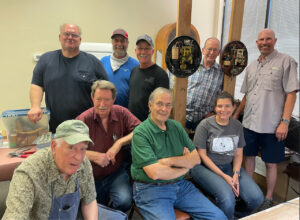 Self Winding Clock Repair class
Back row: Brian Schmidt, Tom Hefner, Tim Henz, Mark Hall and Steve Skrasek.
Front row: Arnold Madnick, Ralph Ward, Ken Sykes and Carlie Dimitriadis.
---
Our Chapter has taken on a project to restore a McClintock Street Clock. This clock came from the Cedarburg State Bank in Wisconsin and is a Chapter project, just as two other street clocks that were restored by our Chapter.
One is in Grapevine and the other is in Red Oak, TX. This current restoration project will stay with the Chapter and will be used as advertising to promote our educational programs. The first Work Party had good attendance to start the restoration. The main frame had significant rust and other damage to the metal. Both the frame and a special metal stand were sand blasted and powder coated.
Cedarburg Clock Ready for Restoration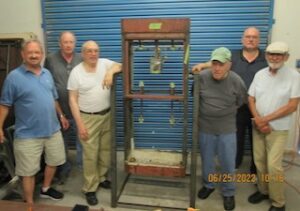 Pictured are: Chuck Edwards, Tim Brownlee, Jon Anderon, Arnold Madnick, Brian Schmidt, and George Augustus.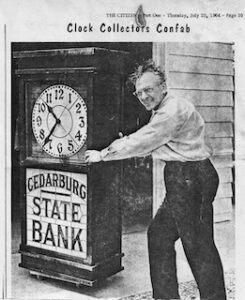 THE CITIZEN – Cedarburg, Wisconsin, Thursday July 23, 1964
---
NEED TO UPDATE YOUR NAWCC OR CHAPTER 124 MEMBERSHIP?
Click the NAWCC and Lone Star Chapter 124 links to join or update.
---
ATTENTION BUSINESSES:Reach out to all of our Chapter Members with your Classified Advertisement!
Your Classified Ad on our Resources page is only $20 for two months or $40 for a full year.
Thank you for your business.
---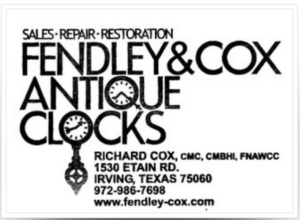 Brian Schmidt
President
Chapter 124, NAWCC
Follow the link to the registration forms for members and public.
Contribute to Chapter 124 When Purchasing Items on Amazon
Amazon started a charitable side of their company called Amazon Smile. Business entities, such as Amazon, can establish a non-profit side of their business and distribute charitable contributions to 501(c)(3) organizations. When shopping under the Amazon Smile program, 0.5% of sales are donated to a non-profit organization of the customer's choosing.
"Lone Star Chapter 124 NAWCC Inc" is the registered name of our non-profit for this program. When purchasing products with Amazon Smile, you select where Amazon's donation go. This donation is from Amazon and does not cost you anything. We hope you select "Lone Star Chapter 124 NAWCC Inc."  Please visit:Amazon Smile Information
Copyright © 2020 Lone Star Chapter 124 NAWCC, Inc.