I would like to take this opportunity to wish everyone, all the past and present mothers of Chapter 124, a Happy Mother's Day.
Annual Membership and One-Day Meeting:
Coming very soon is the Chapter 124 Annual Membership and One-Day Meeting. The annual event will be held on Saturday, June 3, 2023, at the Founders Building in Grapevine. This year, we are introducing a couple of new events, as well as conducting a very important election.
Chapter 124 needs your help. Normally, the rotation schedule of our Board of Directors allows for electing, or renewing, two to three Board members each year. This year, we are experiencing a higher than normal turnover. Of the nine positions on our Board of Directors, we need to fill five positions during the next Annual Meeting. Please consider contributing to Chapter 124 by joining the Board. We really need you to keep the Chapter moving ahead.
As for the One-Day, and along with the familiar Vendor and Mart activities, Chapter 124 will be conducting a Live Auction, consisting of several Chapter-owned horological items and a Bake Sale. In addition, you will be able to offer your personal items for auction and contribute to the Bake Sale.
The Live Auction will run from 10:30 am – 11:30am, during the annual meeting. This will be a Reserve Bid auction of 10-12 Chapter-owned horological items. If you are interested in having one of your own items in this auction, Call or Text Tom Hefner at (817) 565-8697, NOT LATER THAN 31 MAY. You may also donate an item to the Chapter or the Chapter will auction your items for 15% of the auction sales price.
Concerning our new Bake Sale (Auction), please consider offering a cake or other baked item for auction, with the proceeds going to Chapter 124. Contact Brian Schmidt, if you would like to participate. Please take a look at the recent Constant Contact announcement for more details.
Education:
Again, Chapter 124 still needs several more instructors. Without our volunteer instructors, our education program would be severely limited. The classes offered by the Chapter, as well the Lone Star Regional, are the main sources of our Chapter's income. We need additional income in order to keep our Irving Training Facility and continue to offer you one of the best Chapter Education programs in the NAWCC. Without these classes and the annual Lone Star Regional, Chapter 124 would be just a Social Club. We are working on additional classes to be posted over the next few weeks. 
There were two classes offered in the past two months. First, in April, Jerry Kieffer conducted a course we titled, "Pick Your Own Project".  This course allowed for one-on-one instruction in advanced applications of the student's choice.
The class was very successful and we are always pleased to have Jerry visit Chapter 124.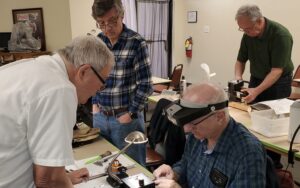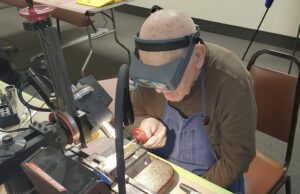 Next, in May, Phil Ball conducted the French Clock Repair course with a full class.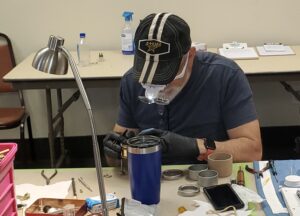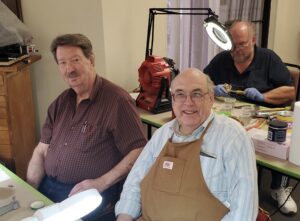 On a recurring topic, we remain at a loss as to why no one is applying for the Fred Tischler/John Erickson Memorial Scholarship. Please visit the Chapter124 Website for information on this valuable resource – Fred Tischler/John Erickson Memorial Scholarship Fund. 
Finally, please help show support for the Houston (San Jacinto) Chapter 139 by attending their Regional on August 25, 26 and 27, 2023.
Thank you,
Brian Schmidt
President
Chapter 124, NAWCC